As I think to Veteran's Day, 2018, I've given a lot of thought to the word sacrifice. More than just sacrifice, but that saying I've heard my entire life, as I was born shortly after WWII and at the start of the Korean War. You know the saying... "All sacrificed some, but some sacrificed all." Over the years I have made a lot of friends with our older veterans. They are very special in my eyes. My dad and his two brothers were among those special veterans.
100 years ago on November 11th at 11 AM, 1918, World War I ended. It is hard to imagine the horror of that trench warfare. Over 117,000 American lives were lost in that "war to end all wars." Northeast was only 4 ears old, and I have been unable to find if any Vikings were lost in that war. Over 407,000 American lives were lost in WWII and I do know that we have records for 105 Vikings that died in that war. We recently discovered two previously unknown Vikings who were killed, and I'm sure there are others we'll never know about.
Over the years I have made a lot of friends with our older veterans. They are very special in my eyes. My dad and his two brothers were among those special veterans.
Among our Northeast Vets, two stand out, as they have enriched my life and understanding of sacrifice and service beyond measure. My friend Ace Astry, a 1933 graduate, VIDEO and Lawrence (Bill) Gore, class of 1944. His family had 23 members who served in WWII. Mr. Gore collected their stories and photos in 1999, and has shared with me those of seven: his brother Truman, five cousins, and himself, all Northeast graduates or attendees. Eugene, Leroy and Dean Gore were also brothers. Mr. Gore is now the last survivor of his family's 23 WWII veterans.
Mr. Gore's family members who served in WWII were not high ranking officers, but common boots on the ground, troops or sailors. They served Uncle Sam and the American people, with valor and honor. Some served state-side and some abroad which was probably true for most families. Eight served in combat zones. Two cousins by marriage stood out. George Maxon was killed in Belgium. His brother Bill was awarded the Sivler Star for his actions in the Phillipines.
Several family members were being staged for the invasion of Japan when the war ended. It's clear that the dropping of the atom bombs probably saved the lives of many of Mr. Gore's family, and the lives of hundreds of thousands of other servicemen.
All the servicemen of this family came home alive, except one. George Maxon sacrificed all.
Eugene graduated from Northeast in 1937. Upon graduation he went to work in the stationary
and book binding business. In the 30's, Northeast did it's own printing and binding, so it may have been a trade he learned while in school. In 1941 he went to work for Lake City Ordinances, where he worked until he was inducted into the Army in 1941. After receiving training at multiple bases he was assigned to the 9th Air Force, 810th Chemical, Co. Their mission was to service and protect the air squadron.
His outfit was shipped to Europe in January, 1943 as part of the largest convoy to date. They
were sent to Chelmesford, England for additional training. His unit was responsible for the smoke used during the Normandy invasion. They landed on Normandy Beach on D-Day+8. They went through St. Lo, France south to Orleans where they guarded 20,000 prisioners to Paris with air patrol under General Ultch. They went north and were caught in the Battle of the Bulge near Liege, Belguim in December,1944. They were protecting the supplies of gasoline, food, and ammunition, which were a primary German objective.
"It was cold as hell, minus 20 degrees and with 12 inches of snow", he is quoted as saying. Later
they were attached to General Patton and crossed the Rhine near Cologne on pontoon bridges next to the destroyed Remagen bridge. His unit continued to support and defend air strips and air squadron throughout the European campaign.
After VE Day they were sent to southern France to prepare for shipment to the South Pacific,
but " Thank God" the War had ended. After 10 days at sea they arrived at Camp Kilmer, NJ for separation. Although greeted by "Welcome Home" signs the celebration was muted by a strike by the longshoremen, who would not unload the troops. To lift spirits the USO greeted them on a boat with a band and girls galore. They spent 9 long hours on deck in the cold and rain until
the army unloaded them with a landing craft. He was discharged in October, 1945.

Eugene returned to the Security Stationary company where he worked for 42 years.

Eugene Gore In Foxhole
Battle Of The Bulge
==================================

Truman "T.L." Gore
"T.L.", as he preferred to be called, graduated from NE in 1942. Because of his distinguished performance in ROTC (he was the first Colonel in NE history), he received an appointment to West Point. But he failed the physical exam, and so he started pre-engineering studies at KCJC in the fall of 1942. He enlisted in the Army Reserves in May of 1943, just before his 18th birthday, and was called to active duty in July.

He was sent to ERTC (Engineering Replacement Training Camp) located at Camp Leonard Wood, MO for 17 weeks of training. It was followed by 4 weeks of road building and forest clearing. In December of 1943 he was sent to Grinnell College in Iowa for testing in the ASTP (Army Specialized Training Program). In January of 1944 he was sent to Naperville, Illinois to resume college.

In March of 1944 the ASTP program was cancelled and he was sent to Fort Polk, LA, and assigned to the 53rd Armored Engineering Battalion of the 8 th Armored Division. They trained until November of 1944 when they were sent to Fort Dix, NJ to embark to Europe. Shortly before they left he was promoted to Corporal. They left in November of 1944 on the HMS Samaria which was known for its bad troop transport conditions. T.L. said that he lived on candy bars for 2 weeks. They arrived at Tidwell Barracks, south of London on November 18th . There they were equipped before going to the Continent.

When the Battle of the Bulge commenced they were quickly shipped to La Havre, France, and convoyed to Eastern France where they held in reserve south of the action to push back to the Bulge. During that time they were assigned the task of clearing mine fields and building bridges. In early February the division moved North through Luxembourg and Belgium into Holland. In mid-February they mounted a diversionary attack on Roermond, Germany, then crossed the Roer River and advanced near to the West bank of the Rhine.

There they waited while British General Montgomery made interminable preparations, then crossed the Rhine on March 26th , 1945. They became part of the northern arm of the offensive action to encircle the Germans in the Ruhr valley. This division made the first contact with the southern arm to close the "Ruhr Pocket."
On the 4th of April they were ordered to stop near the west bank of the Elbe. This allowed the Soviet troops to advance and to capture Berlin. They were then assigned to patrolling and mopping up the fragments of the SS and other German troops hiding in the Hartz Mountains, until VE Day in May of 1945.

The division was engaged in building bridges in Central Germany in the month of June and then went to Pilsen, Czechoslovakia. In July the division was disbanded and he was reassigned to the 20th Engineering Combat Battalion. There he was promoted to Sergeant and squad leader. They then began training and preparation for transfer to the Pacific Theater. T.L. said, "I was attending a GI Olympics in the Nuremburg stadium, along with 10,000 other GI's and General Patton, when the PA announcer broke in to say the Japanese had sued for Peace. Except for Patton, we all jumped about 10 feet in the air, cheering at the tops of our voices. As squad leader in an outfit that had already suffered very heavy casualties in the landings in North African, Sicily, and Normandy, and all across Europe. I would have been unlikely to survive the upcoming invasion of Japan."

Because of the shortage of troop ships for transportation back to the US, and because he lacked the points needed for immediate discharge, he chose to return to England for two months of college courses in Shrivenham, England, at a "university" set up by the Army. In December, after returning to Germany, he volunteered for more classes at Biarritz, France. In all, T.L's "call to duty" took him into 9 different European countries. He returned to the states in April of 1946 and was discharged at Jefferson Barracks, MO.
"T.L." received a Master's Degree in Chemical Engineering from KU. He worked for Standard Oil (later AMOCO) in Sugar Creek, MO until 1966, and then in Chicago until 1986.
===================================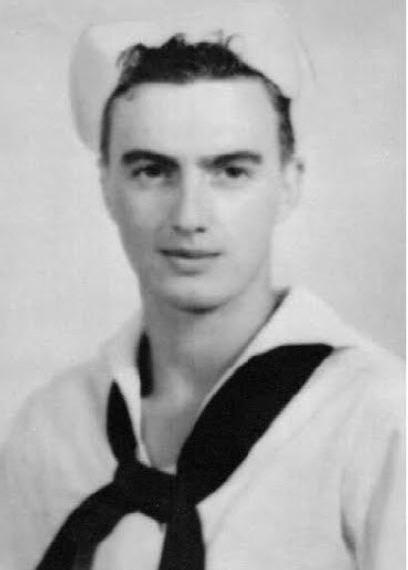 Leroy Gore
Leroy started at Northeast, but then transferred to Manual High School. In August of 1942, he attempted to enlist in either the Army or Navy, but was rejected because of a perforated ear drum. He was accepted into the Merchant Marine. At the time it was a part of the Coast Guard, which provided the training.
From August to December of 1942, he was stationed at Tampa Bay, FL and trained aboard three ships sailing in the Gulf of Mexico. The first, a seagoing tug, gave him his first "taste of seasickness." He elected to become a member of the engine crew, rather than deck crew and learned the fine art of wiping up oil and polishing brass. He trained on the "Joseph Conrad" and the "Empire State, " and then was assigned to the "American Pilot" to train cadets at the Coast Guard Academy at Kings Point, NY. Coming from Florida, they weren't equipped for the 50 degree temperature drop and "the 5 day trip was hard to take." He then transferred to War Shipping to get assigned to a ship sailing out of NY.
He was assigned to the "SS George Taylor", a new 500 ft. long, 10,000 ton Liberty Ship. They were carrying bombs, aircraft, railroad engines, and 500 troops. They joined a convoy of 60 ships and "zigzagged for 20 days across the Atlantic before being attacked by submarines off the coast of the Azores." The convoy split, and they went to Casablanca, Morocco, where they unloaded troops and cargo. He said "I don't have any records of attacks from this first trip, except I remember ships going down on both sides of us, and having to dump some of the airplanes and deck cargo in the bay at Casablanca because of the damage." They took on new cargo and sailed into the Mediterranean, stopping at Oran, Algiers, Bone, Malta, Sicily, and finally at Naples, Italy. "Several bombing attacks damaged our deck crew, which unloaded at Naples." They loaded up with German Prisoners and headed home, stopping for two days in Gibraltar. They joined a convoy of about 50 ships, and got back to New York after 23 days. He took a three week leave to visit at home, and then went back to New York.
He was assigned to another Liberty ship, the "John Hathorn," which loaded with boms, guns and 1000 troops, and left New York July 21, 1943. After 20 days at sea, the convoy split near Bristol England, and they went to Gibralter, then the north coast of Africa, and then to Sicily and Naples. They were assigned to Army Transport Command, and spent three months shuttling between North Africa and Italy, moving equipment for the 5th Army. They were under air attack on six occasions. On one trip they spotted a submarine, and three ships were sunk. In December, 1943 they loaded prisoners and joined a convoy at Gibralter for the trip home. Four days from home they ran into a hurricane and, "bobbed around in the storm eating sandwiches and drinking coffee. Everyone on board was seasick, including the poor prisoners. What a mess."
They arrived in New York in January, 1944, and he was told his mother had died in October, but they didn't know where he was to notify him. After a month in New York, he "decided to come home, get a job, and help with the family."
Leroy had a career of engineering and consulting in the food vending and metal products industries, including 24 years at the Vendo Company.
===================================


Madison Hancock

Madison graduated from Northeast in 1942. He joined the Navy in March of 1943 and was sent to Farragut, ID for boot camp and training. He was sent to Attu in the Aleutian Islands, now part of the United States. He was there for 18 months in the supply depot before returning home on leave.

Madison and Frankie Gore (NE class of 1942) were married in 1945, before Madison returned to duty. Madison was then sent to Guam for the remainder of the war. He remained in the Naval Reserves for the next 30 years, stationed at Olathe, KS in the supply department, and was a Chief Petty officer.

Madison worked for Standard Oil in Sugar Creek, MO for 29 years, and then was in the building industry in Washington, DC and in Florida.

===================================


Earl Dean Gore
Dean attended Northeast and would have been part of the class of 1945, but he chose to leave school in 1944, shortly after turning 17, and enlist in the Navy. He attended basic training at Great Lakes Training Center in early 1945. He was then assigned to the 114th Naval Construction Battalion (the "Seabees") and finished his training in Davisville, RI in the spring. He said "I'm sure I was drafted into the C.B.'s because of my age. They needed grunts or laborers." Their mission was to supply the trades, such as carpentry, plumbing, electrical, etc., with an emphasis on heavy equipment operations.

His unit was sent to Pier 91 in Seattle for advanced training and in May of 1945 it was scattered throughout the Aleutian Islands off the coast of Alaska. He was stationed at Attu where they "built a lot of airstrips, bridges, garages, hangars and beer halls. I got to play a lot of ball, up and down the island chain, weather permitting." He says, "I ended up maintaining the upkeep of the dock, running steam winches, loading and unloading ships." He was promoted to Boatswain Mate 3 RD Class and was made Master of Arms of the docks "The duty was not all that exciting. But it was an experience, I'll never forget." He was discharged at Lambert Field, St Louis in 1946. Dean worked for Standard Oil in Sugar Creek until 1959. He then attended Warrensburg State Teacher's College, and then worked for Vendo in MO, TX, MS, CA and AR until 1992.
===================================

David McGuinty
David graduated from Northeast in 1945. He became enthused with flying for the Navy while reading as a child. In July, 1945 he got his chance. He had the opportunity to enlist in the Navy V-5 program for potential pilots. He was first sent to Great Lakes Training Center in Illinois for orientation, then to KSTC in Pittsburg, KS for classes. His was in one of the last V-5 units, which was comprised of mostly Navy vets from carriers or NAS bases. "The studies were a breeze, but the physical training wasn't and the obstacle course nearly did me in."

In mid-1946 he got to observe advanced pilot training at Corpus Christi, TX, which fueled his excitement for flying. His unit was transferred to Dartmouth College in Hanover, NH. There they were integrated with V-12 cadets. "It was culture shock for a Midwesterner. We were not appreciated. Classes were even tougher and very large. Fortunately the physical training was easier."

By 1947 there was less need for pilots and he was given the option of finishing training as a midshipman (no commission) or to return to civilian life. "I was ready to come home" he said and was discharged at Great Lakes, IL

David and Cleo Ricketts (class of 1943) were married in July, 1949. David worked in the electronics industry in Kansas City, and in California until 1993.
===================================

Lawrence "Bill" Gore
Bill graduated from Northeast in 1944. He started pre-engineering studies at KCJC that fall.

Because of his ROTC training, he expected join the Army. But he wanted to fly, and Army flying programs were full, so he enlisted in the Navy as a Combat Aircrewman in
April 1945. He hoped to be assigned to a carrier-based dive bomber in the final battles.

He had boot camp in Memphis, TN, and elected to train as an aviation radioman/gunner. The war ended with the dropping of the A-bombs, but his training continued. He
completed aviation radio school at Memphis as a Seaman First Class in January, 1946. He went to Jacksonville, FL for aviation gunnery school. At the completion of that course in March, 1946 the program was halted. He was given the choice to join the regular Navy, or exit the program and be prepared for discharge. He chose the later. He was sent to Atlantic City NAS, which was a base for anti-submarine patrol bombers, and was assigned to the communications office. He never got to fly, and was discharged in July, 1946.

Bill graduated from KU in 1949 as an aeronautical engineer. He worked 25 years for Boeing, and in other aircraft, missile and space programs until 1990 He now lives near Seattle, WA.
===================================
THE HOME FRONT

We would be remiss in talking about sacrifice, if we didn't mention our families at home. WWII in particular was "all out," and families sacrificed everything fighting the tyranny abroad. There was strict rationing of gasoline and food. Products made of steel, aluminum, rubber, etc. sacrificed to build war goods. Families planted Victory Gardens, woman sacrificed nylons and painted seems on their legs. Woman went to work in defense factories and kept the home fires burning brightly. Here at Northeast the classes of the 40's gathered scrap metal, pennies , oil, just about anything they could find to gather funds to buy a landing craft that was christened the " Viking."

I wish for all of our Vikings Veterans a day of peace, honor and recognition. You deserve not only our thanks, but our gratitude for a "job well done." You are the reason we are "the land of the free." I too know that many of you are humble and dislike the attention. Please bear with us this one day of the year.

For those of you not Veterans, if you see a Veteran or know a Veteran, stick out your hand. Thank them for their service. Tell them how honored you are to meet them. Ask them their name, listen to their stories and be proud that these men and woman, sacrificed for your freedom. Not only will it make you feel good, you will bring a smile to someone deserving of our respect.

Happy Veteran's Day, Ladies And Gentlemen

On Behalf Of A Proud Nation